Throughout the year, Bergen's Promise offers internship opportunities to students in high school and college. This is a great way for students to learn about what a Care Management Organization does and the gain comprehensive knowledge about how a CMO functions.
On June 5th, one of our recent interns, Rebecca Collette, was recognized at the Henry P. Becton Regional High School Final Presentation & Recognition Ceremony for completing her Career Exploration Internship Program. Rebecca was with us from mid-December 2017 until June 2018.
Part of her internship program was writing a blog that followed all of Rebecca's various accomplishments with Bergen's Promise. She was involved in Care Management, Community Resources, and Quality Assurance. The exposure to all of this experience was extremely valuable.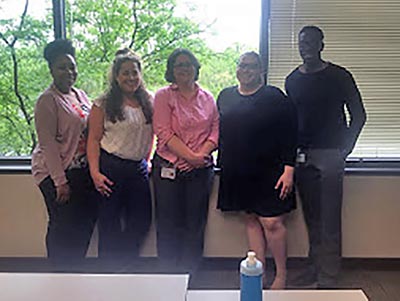 "Care Management was the first department I was ever involved with, and I was lucky enough to continue experiencing it all the way through to the end. I have learned so much more than I ever thought possible only being with them for about 2 or 3 days a week. I am proud to say that I was able to do treatment notes, as well as FF and progress notes, successfully on my own by the time I finished with Care Management."
Rebecca will carry this experience with her as she goes to college and pursues a career. The knowledge and experience she gained was invaluable to learning about addressing mental health with supports from all aspects of wellness.
"In my family, there are quite a few people with Autism or ADHD diagnoses, so mental health has been a large part of my family. Seeing the involvement within the community made me interested in a field that involved some of these aspects. As time came, figuring out a college and a major became necessary to do and researching about social work made me realize that it would be something that I would love to do. I chose social work so I can help benefit the people and places around me, not myself."
To read more about Rebecca's experiences with Bergen's Promise, visit her blog.
If you are interested in learning more about internship opportunities at Bergen's Promise, contact us at HR_Department@bergenspromise.org.