September 16, 2020 from 12:00 pm - 3:00 pm:
National Urban League (NUL) Conference and Networking Virtual Career Fair The NUL Virtual Diversity Career is part of 'The Urban League FIGHTS for you!'campaign to promote jobs and opportunities in our communities. Participation will connect with a marketplace of true diversity while supporting The National Urban League and its work to empower communities.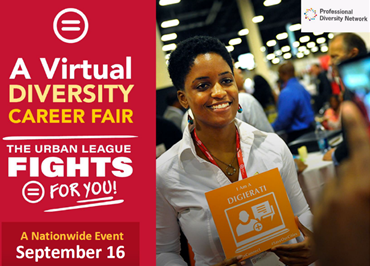 About the National Urban League:
The NUL is a historic civil rights organization dedicated to economic empowerment in order to elevate the standard of living in historically underserved urban communities.
How to Succeed at the Virtual Career Fair:
Pre-register now and receive info about employers and job alerts available before the event.
Prepare your resume to submit it online.
Connect any time between 12:00 PM and 3:00 PM EST—This is a 4-hour recruiting event.
Chat and interact with recruiters.
Get interviewed and perform one-on-one video calls with recruiters.
You can also view and apply for Bergen's Promise current career openings on our website